Series:
Author:
Subtopics:
Reference:
Related Articles:
Related Links:
Photos from Toxy Cowasjee private collection.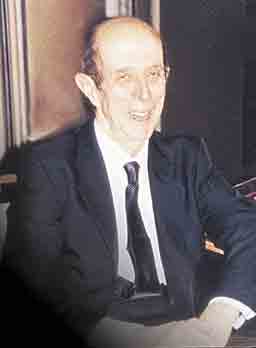 Noshirwan Cowasjee, London 1985, at WZO's function
Noshirwan or as his friends used to call him "Baboo"<![if !supportFootnotes]>[2]<![endif]> passed away in London, UK on 22nd May 2002 at the age of 88 years. As was his wish, he was buried next to his beloved wife Villie, at the Zarathushtrian Brookwood cemetery in Surrey, UK, on 27th May. His name was not familiar to many, yet, with his passing, the Zarathushtrian community in UK and the world, lost one its great souls!
Noshirwan was the youngest of the family of Fakirjee and Aimai Cowasjee of Karachi, Pakistan, comprising of three sons and two daughters. All the Cowasjee children were brought up strictly in the traditional Zarathushti way. They were imbued with the ethics of the Zarathushti religion. Importance of honesty, integrity, self-reliance, consideration of others irrespective of position, religion, colour or creed, being fair and honorable in all one's dealings and hard work, were drummed into their mental fabric.
The family's income was modest, when Fakirjee ventured into the shipping business. He prospered through hard work. The sons schooled at the BVS Parsi High School in Karachi, but Noshirwan completed his schooling at St Patrick's. They thereafter joined their father's business. Fakirjee passed away in 1939 whilst in the UK. He was buried at the Zoroastrian Brookwood cemetery.
Noshirwan and his older brother Russi, took over the running of the shipping business. They expanded and made it more profitable. Both gave full support to the British Navy during the Second World War. In 1946, they expanded the business by purchasing cargo ships and established the East and West Steamship Company. Noshirwan traveled the world over to inspect ships and negotiate their purchases. The Cowasjee cargo fleet of 13 sailed all over the world.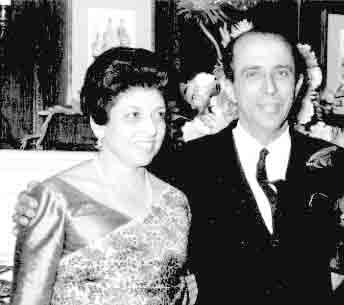 Noshirwan & Villie at the reception on board La Duchesse de Bretagne during her maiden voyage. Torquay, July 1967
The brothers branched out into selling American cars. A large showroom was built at a prestigious site in Karachi, to display and sell Studebaker and Kaiser-Frazer cars. Fargo Trucks and Renault were added. Sale and servicing of cars flourished. The show room sported a turntable for a car, the first in the Indian sub-continent.
The dynamic Cowasjee brothers commenced representing ship owners and in 1952, branched out into the specialist business of salvaging ships. Noshirwan became well-known on the Indian sub-continent for his exploits in the field of Marine Salvage. An example was the salvage of s s Toledo grounded on Clifton Beach in Karachi, Pakistan. The highest award was given to the Cowasjee's for this salvage, and until recently, it has featured in the Guinness Book of Records.
In 1957, Noshirwan and his wife Villie decided to immigrate to the UK with their family. Noshirwan, a born entrepreneur, soon set up his company for salvaging ships. In 1964, he moved to Jersey to manage two passenger ferry ships - La Duchesse de Normandie and La Duchesse de Bretagne - plying between the Channel Islands and Southampton to/from France.
In the same year, Noshirwan was invited to join the Jersey Chamber of Commerce and start a passenger car ferry service between the Channel Islands and France. On 10th May, 1964, he started such a service, with the La Duchesse de Normandie. It was the first drive-on, drive-off ferry service between the Channel Islands and St. Malo in Normandy and Granville in Brittany. The ships were used for dancing sessions, whilst docked in Jersey harbour.
| | | |
| --- | --- | --- |
| | | |
| Kaiser- Fraser cars, american limos, importers for Pakistan in the late 40's | Fargo Trucks - agent in Karachi in the 40's | Toledo - beached on Clifton Beach, Karachi, 1952 |
In December 1966, Noshirwan expanded the service by buying La Duchesse de Bretagne. The ship was completely refurbished in Antwerp in accordance with Noshirwan's specifications. In 1967, this ship sailed between Weymouth and Torquay to Channel Islands and to St Malo and Cherbourg in France. She was the fastest drive-on, drive-off ferry at that time, having the first hydraulic lift to facilitate cars being driven on and off. It had a casino, bureau de change and a duty free shop. This was the first time Torquay had ever been used as a ferry port. By 1968, she plied between Southampton, Torquay and Plymouth. This was a "first" as all these ports had never been used for channel ferries to the Channel Islands and/or France - now of course, it is the norm.

Both the ships were used to ferry passengers for Jersey's annual festival, BATTLE OF FLOWERS - the Normandie bringing passengers from Guernsey and the Bretagne from Torquay. La Duchesse de Normandie was also used in a cops/robbers TV series - similar to "The Bill".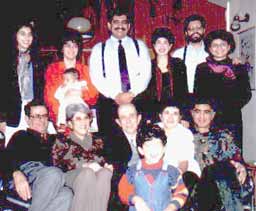 Cowasjee's Family:
- Standing left to right: grandchildren - Natalia, Cyra, Nina (great grand-daughter) Dinshaw, Tanya, Nader, Gulnar
- Sitting left to right: children - Cyrus, Toxy, Noshirwan, Khurshid, Eddie
- In front: great grand-son - Sohrab
Unfortunately, competition became too severe. Noshirwan decided to close the business. He moved to London in 1969, where he started a small, but successful, business. He eventually retired in 1975.
Noshirwan was a life member of the Zoroastrian Trust Funds of Europe. He took no part in its politics or in its running. But he scrupulously attended its functions. A year after Dasturji Sohrabji Kutar, the high priest of the Zarathushtis of UK, passed away in 1984, that anjuman decided to alter its forty year old practice of welcoming non-Zarathushti spouses of Zarathushtis to all religious ceremonies, including Muktad and Farvandigan ceremonies. Although raised as a deeply traditional Zarathushti, Noshirwan considered the decision as misguided.<![if !supportFootnotes]>[3]<![endif]>
As a simple devout Zarathushti who believed in always using his Vohu Mano and choosing the path of Asha, he rebelled against the decision.
But he was opposed. Undaunted by threats of physical violence against his person, harassment by constant telephone calls at night, nasty criticism and even ridicule, he stood tenaciously in his efforts to ensure that non-Zarathushti spouses of Zarathushtis could join in communal prayers at the cemetery, to honor the memory of their departed Zarathushti family members. The way in which he did it, was remarkable! He advertised and organised the Farvandigan prayers at Brookwood at his cost, and provided and served refreshments himself to all who came. He was well-rewarded with large turnouts at these prayers, and has ensured that they are held annually since 1986. This legacy of Noshirwan to the UK community, will endure in his memory.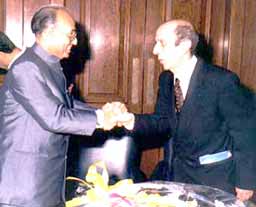 Launching of the book "Twist in the Rope" published by Noshirwan Cowasjee to raise funds for the Medical Benevolent Fund; London 1993 - The High Commissioner of India was the chief guest.
This unique Zarathushti had a particular soft spot for those who suffered ill-health, particularly which required expensive specialist medical or surgical treatment available only in western countries. Having joined the WZO in 1985, Noshirwan knew that this world body assisted needy Zarathushtis in developing countries to get such treatments, but that the resources for doing so, were modest. He became so passionate about this cause, that he made it his life-goal to raise a substantial corpus for the WZO Medical Benevolent Fund, in order to ensure that its income would be sufficient to enable many more Zarathushtis to receive such treatments and have a fighting chance to live.
The cause was so dear to his heart, that Noshirwan began giving munificent anonymous donations for the Fund. He persuaded many Zarathushtis around the world to donate to it. He printed and sold a book on the life of Dadabhai Naoroji at his own expense, in his single-minded drive to achieve the constantly-increasing target for the Fund's corpus that he set for himself. He worked indefatigably to achieve it, even to the point of tiring those who shared his goals and passion.
As a result of Noshirwan's sole and singular efforts, a dauntingly large sum of some GBP225,000 has been raised as the corpus of this Fund. Innumerable needy Zarathushtis with life-threatening illnesses, have been helped to receive all types of medical and surgical treatments which, otherwise, they had no hope of ever receiving. They now live, because of Noshirwan!
That is his lasting legacy to a community he loved so passionately. The world Zarathushti community and the WZO salute this stalwart, for what he has so selflessly done!
In humble gratitude to him, WZO's International Board of Trustees have decided unanimously, to rename the fund, "Noshirwan F Cowasjee Medical Benevolent Fund".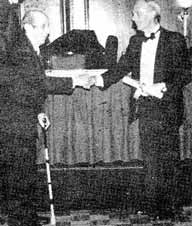 Noshirwan Cowasjee being awarded by WZO on 13 May 2000 at St James' Hotel, London. Prof. Insler was requested to give the award.
In his lifetime, Noshirwan vehemently opposed any recognition for his services to the UK community or WZO generally, and specially to the Medical Benevolent Fund. Despite this, WZO's International Board decided to honour him for his monumental services on 13th September 2000 at a special function held at St James Court Hotel in London, together with 12 other Zarathushtis from all parts of the world who were also honored for their long and meritorious services to WZO. The function was part of the 20th Anniversary celebrations of the establishment of WZO. Knowing his humility, the International Board went to extraordinary lengths to keep the information about the award to him confidential, while arranging for Noshirwan to be present. Such was his desire to remain ěn quiet background, that the slightest whiff of it, would have resulted in his not attending the function.
Not only did Noshirwan serve his community in the UK, and around the world through WZO, but he served many charities as well. Thereby, he showed his love for mankind - the true trait of a true Zarathushti.<![if !supportFootnotes]>[4]<![endif]>
Noshirwan Cowasjee with his two daughters after receiving the award given by WZO on 13 May 2000.
Left to Right: Toxy Cowasjee, Noshirwan Cowasjee, Khurshid Bamboat
Personally, Noshirwan was a family-orientated man. He dearly loved his wife Villie, his two daughters and their families. Villie was physically incapacitated for many years. But Noshirwan looked after and nursed her by himself. So deep was his love, that he visited her grave at Brookwood cemetery every month. Sometimes, when he talked about his children and grandchildren, a big smile of pride and satisfaction always beamed across his face.
Noshirwan was clearly a man of many parts. Having experienced a modest beginning in life and the rewards of hard work as an entrepreneur, he was always sympathetic to those in need. Never forgetting his family's modest circumstances when he was a child, he never put on airs despite succeeding in life and acquiring wealth. He often laughed at himself. It was lovely to see his fact light up, when he did so in a mischievously humorous mood.
Although small and frail of body, Noshirwan walked tall through life because of his admirable qualities: love, strong friendship, loyalty par excellence, innate sense of duty, devotion to family and humanity, thoughts about the well-being of others rather than of self, instinctive opposition to wrong-doing, support for those wronged or the deprived, and above, all his humility - which is indeed the hallmark of a truly noble soul.
May Noshirwan's urwan rest in well-deserved eternal peace in Ahura Mazda's realms of eternal light. Amen!

<![if !supportFootnotes]> [1]<![endif]> Based on the article that appeared in the HAMAZOR (publication of the World Zoroastrian Organization) Winter 2002, issue 3
<![if !supportFootnotes]> [2]<![endif]> A term of endearment for calling a friend (Hindi slang also found in usage in other Indian sub-continent languages)
<![if !supportFootnotes]> [3]<![endif]> This was an outstanding stand for Mr. Cowasjee, as it showed his willingness to change his way of thinking and always wanting to learn. Till this stage in his life he had advocated that had advocated the community members to marry within the community. He was not the type to pray for long durations nor a religious zealot, but was a firm believer in the wisdom of Ahura Mazda. He used to go out of his way to tell young people not to leave the community. But he always believed in the having the freedom to do what one wanted. He was not the type to keep praying or be religious, did their kusti religiously, but were firm believers in the wisdom of AhuraMazda and behaved always with consideration for others, and giving selflessly. He showcased that living in accordance with good Zarathushtrian conscious required righteous action rather than ritualistic praying.
<![if !supportFootnotes]> [4]<![endif]> His daily routine in London included feeding the homeless sitting in High Street in London, before he went for his morning walk.