<![if !vml]>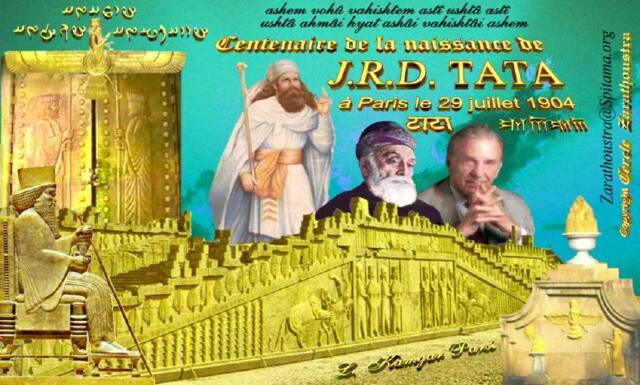 <![endif]>
It is said that: "Money is like manure. It stinks when you pile it; it grows when you spread it."
The Tatas were among the first families in India to spread their wealth and wisdom for the benefit of humanity.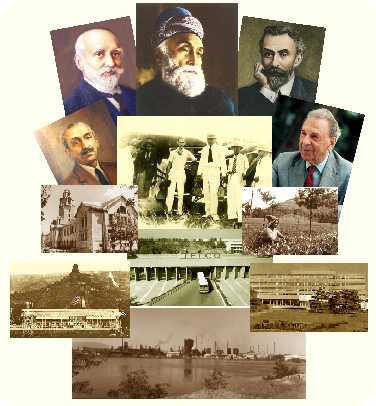 To them, people mattered more than profits. As a result their focus was on the value of investment, not on the cost of investment. They did not spend their time making gold from earth but making earth into gold and they invested equally on human assets as on the physical assets because they knew how to transform "THE POWER OF GOOD" into "THE POWER FOR GOOD." These humanistic attributes contributed toward Tatas building a legacy on the foundation of Zarathushtra's vision of freedom, liberty and justice for all humankind.

<![if !mso]><![endif]><![if !mso]><![endif]>

In order to fully appreciate the words of Mahatma Gandhi: "Tatas represent the spirit of adventure," let us briefly examine the Tata heritage of sacrifice with honesty and integrity.

In 1888, the Tata Mills failed to pay a dividend. The name "Tata" was at stake. Sri Jamsetji Tata risked his personal fortune to save a public company, displaying that people mattered to him before profits.

In 1924, when Tata Steel was at its lowest ebb with no money to pay the co-workers, Sir Dorabji Tata (son of Jamsetji Tata) risked his entire personal fortune of Rupees One Crore (About 1 Billion Rupees of today) which included his wife's jewelry, to get a loan from the Imperial/State Bank of India for a public limited company to save the name of the Tatas.

On one occasion, a senior executive of the Tata Company tried to save on taxes. When faced by JRD the executive said: "But, Sir it is not illegal." "Not illegal, yes, but is it right?" inquired JRD.

While most captains of industry believed that man was meant to serve industry, Sri Jamsetji Tata believed that industry was meant to serve man.

JRD Tata took this philosophy a step further by stating that: "I believe that the social responsibilities of our industrial enterprise should now extend even beyond serving people, to the environment. This need is now fairly well recognized but there is still considerable scope for most industrial ventures to extend their support not only to human beings but also to the land, to the forests, to the waters, and to the creations that inhabit them."<![if !vml]>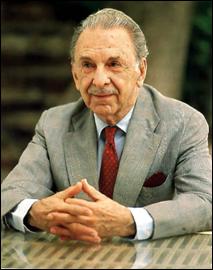 <![endif]>
In short, JRD's working philosophy was rooted in:
Preserving nature's wealth to promote human health.
The uncrowned king of Indian Industry, Jehangir Ratanji Dadabhoy Tata (JRD to the world and 'Jeh' to friends) was born in Paris to a French mother and a Zarathushti father in 1904, the year Jamsetji died. JRD's father Ratanji Dadabhoy Tata and Sri Jamsetji Tata shared their greatness from the same great-great-grandfather – Ervad Jamsheed Tata, a priest of Navsari.
JRD, the second of four children, was educated in France, Japan and England before being drafted into the French army for a mandatory one-year period. JRD wanted to extend his service in the forces but the Divine Father had a special plan for him. By leaving the French army JRD's life was saved because shortly thereafter, the regiment in which he served was totally wiped out during an expedition in Morocco.
In 1938, at the age of 34, JRD was elected Chairman of Tata & Sons making him the head of the largest industrial group in India. He started with 14 under his leadership and half a century later on July 26, 1988, left with a conglomerate of 95 enterprises which Tatas either started or in which they had controlling interest.
It is interesting to note that JRD, whose life spanned the whole of the twentieth century, headed the same industrial empire for over five decades, which he had first joined as an unpaid apprentice in December of 1925.
In addition to that JRD was the trustee of Sir Dorabji Tata Trust from its inception in 1932, which remained under his wings for over half a century. Under his guidance, this Trust established Asia's first cancer hospital, the Tata Memorial Center for Cancer, Research and Treatment, Bombay, 1941. It also founded the Tata Institute of Social Sciences, 1936 (TISS), the Tata Institute of Fundamental Research, 1945 (TIFR) – India's greatest gift to the scientific world, which became the cradle of India's atomic energy program; and the National Center for Performing Arts.
The core of his life's philosophy was embedded in: "Never start with diffidence, Always start with confidence."
He also believed in pursuing his passion with compassion by stating that: "To be a leader, you've got to lead human beings with affection."
Though he was meticulous about the use of money and the shareholder's funds of himself he said: "I never had any interest in making money. None of my decisions were influenced by whether it would bring me money or wealth."
His core interest was the benefit of people – a philosophy with which JRD guided the destiny of India's largest business house for well over half a century.
In 1992, because of his selfless humanitarian endeavors, JRD Tata was awarded India's highest civilian honor, the Bharat Ratna – one of the rarest instances in which this award was granted during a person's lifetime. In that same year, JRD was also bestowed with the United Nations Population Award for his crusading endeavors towards initiating and successfully implementing the family planning movement in India, much before it became an official government policy. His was the first national voice to call for family planning when his futuristic mind enabled him to visualize a demographic death in India. On his death, the Indian Parliament was adjourned in his memory -- an honor not usually given to private citizens. His home state of Maharashtra also declared three days of mourning in his honor when he passed away on November 29, 1993.
<![if !vml]>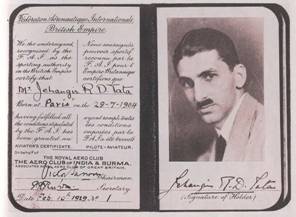 <![endif]>
JRD'S pilot License No.1
The Island of Aviation:
On February 10, 1929, JRD became the first Indian to pass the pilot's examination with No. 1 endorsed on his flying license. With this distinctive honor of being India's first pilot, he was instrumental in giving wings to India by building Tata Airlines, which ultimately became Air India. He launched a civil aviation at a time when flying was a rich man's sport. With a humanitarian vision to knit India close together, his passion for flying was fulfilled with the formation of the Tata Aviation Service in 1932.
Later in 1948, JRD launched Air India International as India's first international airline. In 1953, the Indian Government appointed JRD as Chairman of Air-India and a director on the Board of Indian Airlines – a position JRD retained for 25-years. His 46-year aviation career spanned an era of the frail two-seater Puss Moth to the gleaming 400-seater giant Boeing 747.
<![if !vml]>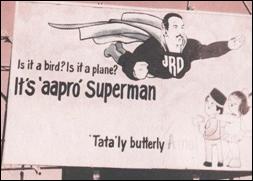 <![endif]>
For his crowning achievements in Aviation, JRD was bestowed with the title of Honorary Air Commodore of India. Besides having an avid interest in aviation, JRD also had a passion for cars, bike racing and car racing.
Kalpana Chawla, the Indian-born astronaut who perished in the recent Columbia space shuttle disaster, cited JRD and his pioneering airmail flights as her inspiration for taking up aeronautics.
The Island of Steel:
In India, the Island of Steel was founded by the "Father of India's Industrial Revolution – Sri Jamsetji Tata." The annual philanthropy (love for one's fellowmen) and social uplift budget of Tata Steel is probably larger than that of any single Indian charitable foundation or company. It is because the Tata tradition is: "If we think beyond industry, we find a purpose for industry and our industries can become more effective."
At Tata Steel, not only steel but also men were forged in Jamshedpur. That's why it's a place where India is still shining, it's a place where the nation of India was transformed and it's a place that was selected as a UN Global Compact City because of the quality of life, conditions of sanitation, roads and welfare that were offered by Tata Steel. What better tribute can one imagine for Industrial India?
In 2007, Tata Steel will be celebrating 100 years of existence with substance.
In the 1890s Sri Jamsetji Tata believed that the health and welfare of employees was the foundation of his prosperity. Beginning in 1911, it was this policy of Jamsetji that pioneered a trend of creating an 8-hour workday for the employees of Tata Steel in India, when factories in the Western world worked 10-12 hour work shifts.
Eighty years later JRD Tata was thinking of a company's responsibility beyond obligations to its own workers. In 1979, Tata Steel instituted a new practice; a worker is deemed to be "at work" from the moment he leaves home for work till he returns home from work. The company is financially liable to the worker if any mishap takes place on the way to and from work.
In 1956, JRD initiated a program of closer "employee association with management" to give workers a stronger voice in the affairs of the company. He firmly believed in employee welfare and espoused the principles of an eight-hour working day, free medical aid, workers' provident scheme, and workmen's accident compensation schemes, which were later, adopted as statutory requirements in India.
Furthermore, under JRD's chairmanship two pioneering strokes of Tata Steel came about; namely, a profit sharing bonus and a joint consultative council. These measures pre-empted any labor trouble and Tata Steel has enjoyed peace between management and labor since then and they were later adopted as statutory requirements in India.
In short, JRD further enhanced the Tata tradition of nation-building rather than just building influence or power.
The Island of Education:
In 1912, the London School of Economics established the Ratan Tata Department. The following year it advertised for a position of a lecturer in that department for which two people applied. One was a young man called Clement Atlee, who after careful consideration was selected for this position. About 32-years later Atlee became the Prime Minister of Britain. Interesting enough that it was under his government that India was granted independence in 1947.
Education and research have been the hallmark of Tata's tradition because it not only provided a sound training ground for people but also a platform to raise the social conscience of a nation. Among the pace-setting institutions launched by Tatas, were India's first Institute of Social Sciences, its first cancer research center and its first institute for fundamental research in physics and mathematics - that spearheaded the atomic energy program in India. The Tatas were also instrumental in assisting World Health Organization (WHO) and the Indian Government to free India from the plague of smallpox for the first time in history.
Presently in Bangalore, the JRD Tata Memorial Library, popularly known as the Indian Institute of Science Library, is one of the best Science and Technology libraries in India. Started in 1911, as one of the first three departments in the Institute, it has become a precious national resource center in the field of Science and Technology. The library spends over ten crores of rupees annually of which subscription towards periodicals alone is about nine crores, which is unparalleled in that part of the globe.
To-date, JRDs legacy of spreading education hails as Tata Consultancy Service (TCS), which has developed a computer system to expedite the spread of literacy all over India. About 200 million adults in India cannot read or write. With TCS in the forefront, currently, illiteracy is reducing at an annual rate of 1.5% per annum. At this rate within the next 20-years India will attain a literacy rate of 95%.
JRD's passion for learning not only evolved around things that mattered to business such as technology or finance; but also encompassed places, people, music, medicine, literature, philosophy, religion, the arts and the sciences. He was seeking the "extra" in the "ordinary" to make it extra-ordinary. A courtesy ride to children in his car on their way to school was not just an expression of warmth but also an exclusive opportunity to learn about what was taught in schools – a magical moment to catch a glimpse of the future. As a result he not only built 'learning organizations' but also emulated one himself.
The Island of Quality:
It is said that: For children, parents help define who they are.
I believe that the Tatas helped define the Industry of India by focusing on Quality.
With steel as the mother of industry, education as the father and hydropower as the child, the Tatas pioneered the family of industrialization in an era, when these imperatives of industry were not evident to common thinkers.
I believe that: "Uncommon thinkers reuse what common thinkers refuse."
Quality was one of the attributes that were reused by Tatas under the Chairmanship of JRD because he was an uncommon thinker.
Being unsatisfied with the second best, his unflinching and unwavering commitment to the highest principles and standards was the light that forever illuminated his path, inspired his speech and guided his actions.
He believed that:
"When you work, work as if everything depends on you. When you pray, pray as if everything depends on God."
He also believed that: Cleanliness is the Hallmark of perfect standards and the best quality inspector is the conscience.
With this sentiment the TELCO saying was developed:"Quality is first engineered; only then it is inspected."
With the same sentiment at Tata Steel they firmly believed that: "Making steel may be compared to making a chappati (tortilla). To make a good chappati, even a golden pin will not work unless the dough is good."
This domino effect of Quality is evidenced in ALL multi-faceted endeavors of the Tatas, not only in products and services but also in corporate conduct, which was of paramount importance to JRD.
With QUALITY being the common thread, as an industrialist, JRD placed the Tata Group on the international map; as an aviator, he brought commercial aviation to India; and as a philanthropist, he built the spirit of Tata Charitable Trusts to keep it live and alive.
The Island of Service:
In 100 Great Modern Lives edited by John Canning (Souvenir Press, London), in the galaxy of personalities only two Indians feature – Mohandas Karamchand Gandhi and Jamsetji Tata. The chapter on Jamsetji Tata concludes with the paragraph: 'Probably no other family have ever contributed as much in the way of wise guidance, industrial development and advancing philanthropy to any country as the Tatas have to India, both before and since independence (1947).'
The Tata tradition of Service to humanity in the spirit of brotherhood is encapsulated in this true story. One day, at Tata Steel due to a serious accident about 75 tons of molten metal crashed on the ground resulting in some people getting burnt.
The first transportation car could only accommodate 3-people. One of the three persons chosen was a Hindu. But, he chose not to board the car. Instead he said: "Take my half-burnt Muslim Brother first." This Hindu man in spite of facing the danger of death remembered to be of service to his Muslim brother during his time of need. What a powerful spirit of reaching out – a Tata tradition.
Under JRDs Chairmanship, Tatas won the National Award for employment of the Physically Handicapped. Furthermore, during catastrophic natural calamities (earthquakes, cyclones, etc.) in India, the Tata Group developed a tradition in which workers and officers of its major companies took the initiative of donating 1-2 days of their salary and the companies matched that donation. These workers also volunteer to donate blood and even assist in rehabilitation.
JRD believed that: Common people have an appetite for food; uncommon people have an appetite for service.
With his uncommon appetite for service, JRD put his own money to set up a multipurpose JRD Tata Trust in 1944, and a few years later sold some of his assets to establish the JRD & Thelma Tata Trust, which to-date works towards serving the disadvantaged women in India.
Even though, one can find numerous other Islands of Tata in the Ocean of India, I have chosen to focus on only 5-Islands to symbolically represent the 5-fingers of Tata's hand reaching out to Humanity.
They also resonate with the following 5-guiding Principles of JRD:
Nothing worthwhile is ever achieved without deep thought and hard work;

One must think for oneself and never accept at their face value slogans and catch phrases to which, unfortunately, our people are too easily susceptible;

One must forever strive for excellence, or even perfection, in any task however small, and never be satisfied with the second best;

No success or achievement in material terms is worthwhile unless it serves the needs or interests of the country and its people and is achieved by fair and honest means;

Good human relations not only bring great personal rewards but also are essential to the success of any enterprise.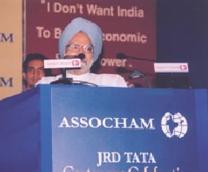 Honorable Prime Minister of India, Dr. Manmohan Singh addressing the captains of industry, senior bureaucrats and diplomats at ASSOCHAM JRD Tata Centenary Celebrations
An article titled: "Business as a Spiritual Pursuit", encapsulates JRD's philosophy, and the ethos of the Group he symbolized, by stating that: "(In Tatas) we have retained the fire of idealism and in its glow we have come to recognize that no wealth or power can be more valuable than our dignity; no loss or profit can be more critical than the loss of our credibility; no skills or qualifications can substitute the integrity of our character."
The essence of this 'spiritual core' differentiates Tatas from other business entities globally, as they all must struggle to compete and win in a material world.
Over the past 100 years, the Tatas have invested in industries and worked in areas, which focused on nation building and industrial development, while upholding the core values cherished by the group – nationalism, innovation, leadership, trust, fairness, dignity and numerous others.
Thus, the year 2004 is viewed as a "Century of Trust" – a half-century of which is attributed to JRD.
Generations to come will regard the mission and contributions of this illustrious man worthy of emulation.
As a captain of industry, institution builder, statesman, and educationist and in such other aspects of his multifaceted personality, he displayed courage of conviction and quintessential humanism.
JRD encapsulated the essence of "Humility" defined by Bob Galvin: "Humility does not mean that one thinks less of oneself, it means that one thinks of oneself less."
He touched power but remained untouched by it because he was more interested in the Power of Love instead of the Love of Power.
I will conclude with two quotes from my book Bread For The Head™: "Success is not in hitting the headlines Success is in reaching the Heartlines."
The Tatas have reached the Heartlines of Billions; and "The difference between ordinary and extraordinary Is that the extraordinary know that they can make a difference."
JRD was one of those extraordinary individuals who made a difference in the life of humanity.
He touched and impacted not just minds but the soul of all people by epitomizing a way of life and a culture of business that cared for the country and its people.
Thank you JRD for living and leaving a Legacy of Industry, Charity and Integrity.
<![if !vml]>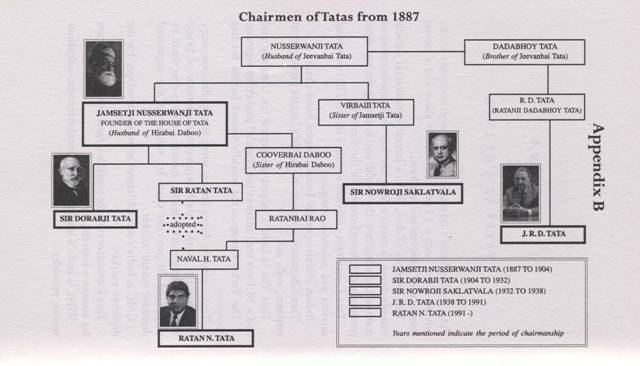 <![endif]>
Picture courtesy: The Creation Of Wealth – The Tatas from the 19th to the 21st Century – R.M. Lala

Sources and Resources to gratefully acknowledge for the composition of this article:
Ratan N. Tata, Chairman, Tata Group India, and his staff members for providing me with valuable books, pictures and information.

Russi Lala and Dinshaw Tamboly for providing their selfless support and valuable guidance.

Dr. Mehr Soroushian for giving me the opportunity to write this article for www.Vohuman.Org

Roshan Rivetna, Khorshed Jungalwala, and my daughter Anahita Amalsad for editorial assistance.

The Creation of Wealth --- The Tatas from 19th to the 21st Century

– R. M. Lala, India.

Beyond the Last Blue Mountain --- A Life Of JRD Tata

– R. M. Lala, India.
Indian Institute of Science, Bangalore
http://www.library.iisc.ernet.in/
Tata Central Archives:
http://www.tatacentralarchives.com/PictureLibrary/PictureLibraryHome.htm
http://www.tatacentralarchives.com/Exhibitions/JRDTataExhibition/JRDTataExhibition.htm
JRD –The Eternal Icon
http://www.tata.com/0_b_drivers/remembering_jrd/20041129_doongaji.htm
JRD
http://www.tata.com/0_b_drivers/jrd.htm
Indian Legends – Jehangir Ratanji Dadabhoy Tata
http://muraleedharan.tripod.com/legends_jrdtata.html
Jehangir Ratanji Dadabhoy Tata (1904-1993) -- Corporate Legend, Father of civil aviation in India http://www.parsicommunity.com/ParsiLegends/JRDTata.htm
Biography Base: JRD Tata Biography
http://www.biographybase.com/biography/Tata_J_R_D.html
Tata Info Tech: Spirit of the Skies
http://www.tatainfotech.com/about/history/spirit.htm
JRD Tata: A life extraordinary
http://us.rediff.com/money/2004/aug/19tata.htm
---
[1] This article produced for production on vohuman.org was posted on vohuman on January 16, 2005.