Series:
Prominent Zarathushtis
Author:
Mehrfar, Dr. Khosro
Subtopics:
Reference:
Related Articles:
Related Links:
Editorial Support:
Annahita Sidhwa,
Mumbai, India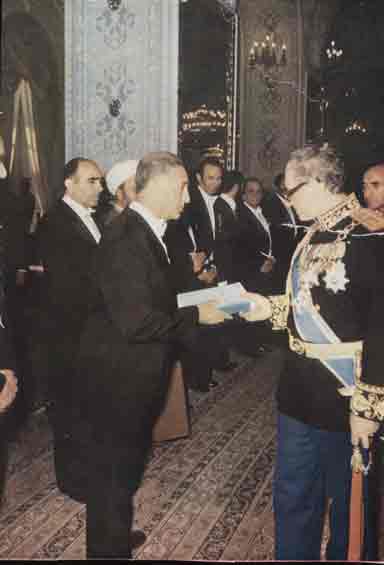 Ardeshir Jahanian presenting the book "Zarathushis and Pahlavi" to Shah of Iran at the Royal NovRuz reception in 1971 at Nivaran Palace, Tehran
Ardeshir was born in 1907 to Goodarz and La'al Jahanian, in the city of Yazd, Iran. His father was one of the five brothers who founded the Jahanian Trade Center in Yazd. Later they opened a branch in New York and the notes of the trade center were accepted by the business community as bank notes. All five brothers were active members of the community. At the time when the Zarathushtrians had no civil rights and were daily harassed and persecuted, the Jahanians fought and stood against the Moslem fanatics. They stood up to the government officials, who saw it right to exploit and plunder the impoverished and beleaguered Zarathushtrians of Iran.
Soon after the bankruptcy of their father and uncle, the four Jahanian brothers, Shah-Jahan, Fereidoun, Ardeshir and Mehraban settled in the capital city of Tehran. They had learned from their family history that unity generates success. They established several business centers, an asphalt company, cement, mosaic, and leather and ice factories and became active in agriculture. In 1948 they founded the Goodarz Hospital, a nonprofit foundation in Yazd and employed an Austrian and a German physician. Patients from many cities in the south would travel to Yazd to receive better treatment. Later they annexed La'al Maternity Center and a school for training nurses and medical staff. They established endowments for the treatment of needy patients, regardless of religion and ethnicity. During the Iran-Iraq war many wounded Iranian soldiers were treated at the Goodarz Hospital in Yazd.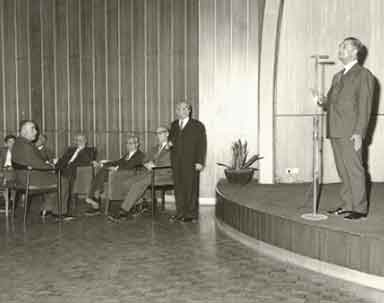 Ardeshir Jahanian delivering a speech on influence of Zarathushtra's message in ancient world, Tehran University, 1968.
Ardeshir had great interest in the Zarathushtrian religion and affairs of the community. He served in the religion committee of the Tehran Anjuman and edited the Hookht magazine, until its publication was ceased by the Islamic government. He authored several books relating to Zarathushtrian religion and history with the following titles: "The Seven Articles," "The Twenty One Articles" and "The Religion of the Achaemenids."
In 1961, he was elected to the board of the Tehran Zarathushtrian Anjuman and served as its vice president. In 1962, at his initiative, for the first time, Zarathushtrian representatives from different countries attended the first World Zarathushtrian Congress in Tehran, Iran. The second World Zoroastrian Congress in Bombay followed a few years later, and that tradition has continued to this day. Ardeshir was a lecturer at many of those congresses. In 1991 UNESCO organized an international congress to glorify the Iranian national poet Ferdowsi. Ardeshir was a guest speaker there and later on he published a book entitled "Ferdowsi's Advises." He dedicated this book to the memory of his beloved wife, Sarvar Sarfeh-nia who had passed away two years earlier.
| | | |
| --- | --- | --- |
| | | |
| A Family photo of Ardeshir Jahanian, wife Sarvar and their children, Tehran, 1953 | | Ardeshir Jahanian and brothers (right to left): Shah-Jahan, Fereidun, Ardeshir, and Mehraban. |
In the aftermath of the Iranian revolution of 1979, Ardeshir remained a Zarathushtrian activist. He often met Islamic government officials and helped to solve difficult issues. As he used to say," Always after our negotiations with the Moslem clergy we came out of the meetings with full hands."
On January 21, 1993 Ardeshir Jahanian succumbed to heart failure after a surgery. The community mourned his loss. Doctor Mobed Jahangir Oshidari, the current president of Iran's Mobed Council in his remembrance stated," The Zarathushtrian community of Iran has lost its pillar." Ardeshir Jahanian had a great passion for his community and they deeply felt his loss. Arbab Ardeshir was survived by three sons, five daughters, seventeen grand children and seven great grand children. They are all well educated and well settled. He will always be remembered as a Zarathushtrian activist, lecturer, writer and a community leader who made a positive impact on the lives of many Zarathushtrians in Iran.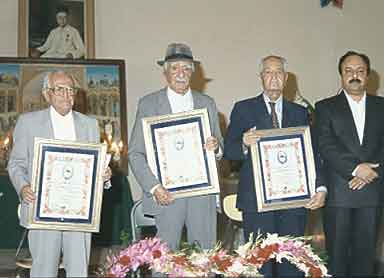 Tehran, 1980: Recipients of Zarathushtrian Community Lifetime of Service Award - from left to right, Mr. Feridon Zartoshty, Mr. Soroush Lohrasp (educator), and Mr. Ardeshir Jahanian

1 The valuable input from Dr. Daryosh Jahanian, a founding member of the Zarathushtrian Association of Kasas is acknowledged. Daryosh is the second son of Arbab Ardeshir Jahanian and an accomplished North American Zartoshty community activist and scholar in addition to his distinguished medical career.