Last week I was cataloging books that were donated to the Zoroastrian Association of Houston library. It is not an easy process as I tend to browse through the books too much. I had to stop to read a slim memorial volume on Peshotanji Marker. There are many lessons to be learned by reading about these wonderful pioneers of our community whose foresight and dedication have contributed to what we are and who we are today.
Peshotanji Dossabhai Marker 1871-1965
(excerpted from Memorial Volume on Peshotanji Marker by Mirza Sarosh Lohrasp et al)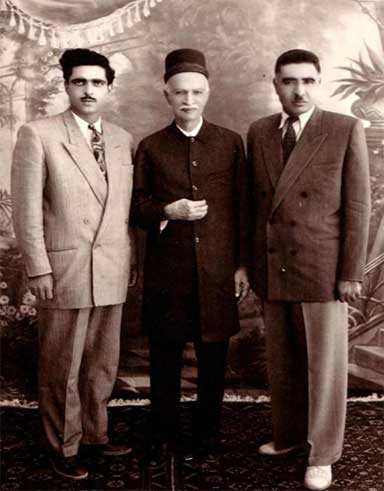 Peshotan Marker in the middle, Dr. Ra'ees Bahrami on the left and Mirza Soroush Lohrasb on the right, 1949. Photo courtesy of www.oshihan.org
The name of Peshotanji (Pestonji) Dossabhai Marker has been written in gold in the annals of the Zarathushtis of Iran. A simple, modest and self-effacing man, he won the love and respect of his co-religionist on account of his single minded devotion to the cause of Zarathushtis both in Iran and India.
Born in India in 1871, he was educated at the Bombay Elphinstone College. He started his career working in a solicitor's office but found being an independent businessman suited him better. Business was however a means to an end. He started his philanthropic work in Vesu, a small village in Surat district where he established a school in 1916. He placed great emphasis on education and asked that religious knowledge be part of the daily lessons for the students. In addition, he donated funds for the maintenance of wells and tanks in Vesu and provided for a medical officer to look after the health of the Parsis there.
Pestonji Marker learnt about the deplorable conditions of Zarathushtis in Iran during the times of the Kajar regime. There were reports from Manekji Limjee Hataria and also personal accounts of hardship that Irani Zarathushti immigrants who had decided to come to Bombay. The persecution of Zarathushtis in Iran deeply disturbed him. As a firm believer that education was the means of uplifting the poor and ignorant and down-trodden, he decided to open an educational institution in Yazd. He started with an orphanage for Zarathushti boys and later on a Boy's High School was established for all the students in Iran. Later on he realized that the community would never come into its own if women remained ignorant. So he opened a Girls' High school at Yazd where girls were given an education as well as trained in handicrafts.
Pestonji Marker made it a point to visit Iran several times to watch the progress of his institutions. Each visit was memorable as there were large gatherings and celebrations to honor him. Leading Government officials present along with prominent Zarathushtis such as Arbab Kaikhushro Shahrokh, Ardeshir Edulji Reporter were amongst those that met him. There were welcome parties that met him several miles outside of the cities of Kerman, Shiraz, Isfahan and Tehran. It is said that when he visited Yazd, the students of the orphanage met him 40 miles from Yazd where he was garlanded and was taken around the city in a huge procession. It was during one of his visits in 1924, he visited Persepolis and a jashan ceremony was held in the ancient ruins. After centuries the ruins reverberated with the sound of Avestan prayers.
The Iranian government was not slow in recognizing the unique services rendered by Marker to uplift and enlighten their people. On one of these visits to Iran, in 1949, that he received the insignia of the Neshan-e-Elmi, and Neshan-e-Sepas. Later that year he received the Nishan-e- Humayun in Bombay. His list of charities in Bombay and Iran was long in both places and it clearly indicated his interest in the welfare of the Zarathushti community. High on the list was education and scholarships in pursuit of religious knowledge but darb-e-mehrs, health facilities and religious literature fund was also included.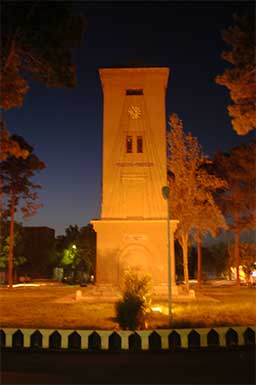 A circle with clock tower in Yazd, Iran is named after Marker for his service to its Zarathushti community.
No account of Pestonji Marker would be complete without reference to Saroosh Lohrasb, the principal of the Marker Orphanage. As a young graduate of the American College in Tehran, Saroosh would have easily got a high paying job in industry or administration. Instead, on the persuasion of Arbab Shahrokh, he went to Yazd and served the school community for 30 years. Pestonji and Saroosh had a wonderful relationship and they worked together to uplift and betterment of the Irani Zarathushti.
To commemorate his memory, the alumni of the Marker school thought a memorial volume with a brief biography of Pestonji Marker, some aspects of ancient Iran and salient features of Zarathushtra's teaching would be a tribute to this great man. And it is a fitting tribute to him indeed!
An added note for members of our list – Ambassador Jamsheed Marker's grandfather Ardeshir Marker and Pestonji Marker were brothers.
And sources tell me the Marker orphanage is not in operation anymore. There is an effort to restore the building and complex. However, there is a tower in Yazd that is still named after Pestonji Marker.