Make known to me, O Mazda, the best teachings and actions, Actuated by the Good Mind, and inspired by Truth, As I express my aspiration in my songs of veneration for Thee. By Thy Sovereign Authority do Thou regenerate this existence, through Thy gracious Will, O Ahura! (Yasna 34.15)
It is said that we are here for a reason - although for many of us the reason is not very clear. I truly believe Jamshed Pavri had a clear idea of why he was here on earth with us mortals, and what he felt his mission in life was. A man with purpose, dedication, perseverance and an anchor to all those in need.
The story of Jamshed takes me back to my teens. I will revert to that later, after giving some background on the man, who befriended strangers, researched endlessly and gave generously.
Background
Jamshed was born on March 20, 1917 in Bombay, India, to Khurshedji and Bachubai Pavri from Surat. He completed his schooling at Bharda New High School in Bombay and soon, thereafter, at the age of 17 (around 1934), he went to Hong Kong to work in his uncle's import/export business. Whilst he was in Hong Kong, he became actively involved in community work, and became a member of the Ruttonjee Sanatorium. The Ruttonjees were famous, wealthy Zarathushtis, who were involved in charitable work to some degree.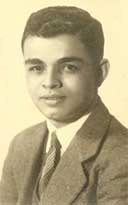 Jamshed Pavri
Honk Kong 1937
In his quiet, unassuming way, Jamshed became well known in the community, and in 1939, he started an informal group called Buzum-e-ruz-e Behram to study the Zoroastrian religion and history. He became Joint Secretary, and later Secretary for the Hong Kong Anjuman, and worked in these official capacities for almost 15 years. He was a friend of both my uncles, Faredoon and Parviz Kermani, who were also residing in Hong Kong at that time. However, our association with him goes further back than that.
Back to India - the place of his birth
In September 1941, Jamshed decided to go to Bombay, but was unable to return to Hong Kong because of the Japanese take-over. During the war years, he organized the "Far East Association" for people who had left China, Hong Kong and Singapore, so that contacts were not lost. This association managed to send food and medical supplies through the Red Cross for the prisoners of war detained by the Japanese. He remained in Bombay for 6 years, during which time he studied Avesta, Pahlavi and Pazand languages under the scholar, Behramgore Anklesaria. He also became actively involved with the Congress Party of India during that time.
Coming to Canada
In 1955, Jamshed married Roda Framroze, and in 1958 they moved to Vancouver, British Columbia, with their son, Yezdi. Jamshed set up an import-export business at Water Street. There were not many Zarathushtis when he came here, but he did not stop at just getting to know and organize our community, but also helped various other faith groups of India. He was instrumental in establishing The Zoroastrian Society of British Columbia in February 1968. He was also the founder member of the B.C. Interfaith Council, India Club, Immigrant Services Society, Multicultural Society, and founder of the Gujarati Society of B.C., of which he became the first President. In 1971 he was awarded a Bronze Medallion for his dedicated services to the Centennial Ethnic Group Committee. His genuine interest in helping people whenever and however best he could prompted him to become a member of the Royal Commonwealth Society of the Blind - becoming particularly involved in raising funds for "Operation Eyesight", which funded mobile eye clinics carrying out principally cataract operations at camp sites in villages to restore the eyesight of a countless number of people in India.
Historian and Community Builder
Jamshed Pavri was a historian and a community builder. He spent countless hours on research and writing. The three most important publications written by him are "A Brief History of Iran and her Contribution to the World", "The Zoroastrian Society of British Columbia - 1968 to 1978, and "The History of Parsees of China between 1756 and 1989".
For two years in the 1980's, I worked diligently on books being written by Jamshed concerning the shipping industry of India which was controlled by the famous Wadia family, the three-way trading traffic between China, India and Britain, and other prominent events and Zarathushtis. I did this with the help of a computer and program from Professor Ashok Aklujkar of UBC. The second volume was never completed because of Jamshed's passing away - there was just a chapter or two to be done. I understand Mrs. Pavris sent the manuscript to Professor John Hinnells, for publication, but I have never seen the end product.
Roda Pavri - Jamshed's soul mate
Much of what Jamshed accomplished can be credited to the partnership he enjoyed with his wife, the late Roda Pavri, who passed away in January 1999 in Vancouver. Roda's parents and she and her two sisters, Sheroo and Diana, moved from Deolali to Poona in 1940. Roda pursued her education there and graduated with Bachelor of Arts and Bachelor of Commerce degrees, after which she joined her uncle, Phirozsha Framroz, in Singapore to assist him in his business. In Singapore, Roda met a dashing and vibrant young Jamshed Pavri, who was running a cotton business in India with other business interests in Hong Kong and Japan. As mentioned earlier, they married in 1955, and moved to Canada in 1958. In 1963, she returned to India with her son, Yezdi, to work on a Bachelor of Education degree.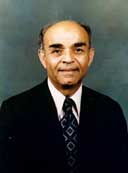 Jamshid Pavri
Vancouver Canada
Roda worked as a teacher in various schools in the Greater Vancouver area. She helped Jamshed in his projects and with his dreams. Roda was not only involved in giving a home to newcomers, helping Jamshed with his community work and his writing, but also teaching our Zarathushti kids about the religion. She taught this in unusual ways - with music, art and drama. I remember going to their home where so many kids would come, and I would play the piano whilst she taught them the songs. Roda played a major role in helping us with the congress we held here, and also during ZSBC's 30th Anniversary celebrations in 1998, where she was honored. The photograph of three beautiful women show the late Gool Amrolia, my mother, Shirin, and Roda - at our place here in Vancouver in the 1990's. Jamshed and Roda's son, Yezdi, is living in Vancouver.
My association and recollections
How and when did I get to know Jamshed? Jamshed was a friend of my mother, Shirin (maiden name Kermani) and her family. Shirin is the niece of the late Arbab Kaikhosrow Shahrokh - her father, Rustom, and Kaikhosrow were brothers. The Kermanis were in Shanghai, and either Jamshed met them when he went to Shanghai, or they met him when they went to Hong Kong. I know that they were friends thereafter. The photograph of Jamshed given to my mother was taken in 1938 in Hong Kong. When my parents, Dali and Shirin Tata, and my younger sister, Zarine, were in Poona uptil 1957, Jamshed visited us often, as he had business interests in Poona. He introduced us to his wife, Roda, and we met her briefly. He encouraged me in my studies, and always found time to explain things in a round-about way. He would ask me to think deeply about the question I had for him, and try and find the solution myself. We did not see Jamshed when we moved to Bangalore, but he kept in touch, and he wrote and told us of his move to Canada. I corresponded with him from time to time, and knew how well respected and active he was in Vancouver. When my sister immigrated to Vancouver in 1980, accompanied by my mother, they stayed with the Pavris. In fact, that was the year Jamshed and Roda celebrated their 25th Wedding Anniversary, and where my sister, Zarine, met who was going to be her husband - the debonair Nanu Dastur - for the first time!
When I came to Vancouver in 1981, it was Jamshed who got me involved in Zarathushti community affairs from almost the word "go". He tried to make me as active as possible in the educational field, and also with committees as our cemetery committee. He was rigid in some of his views, but you would never guess - as he was as persuasive too. In my opinion, he was a great man.
Our memories of a pioneering spirit
Jamshed worked very hard to find a permanent home for our community in British Columbia and, together with others - principally Mehraban Zartoshty, Ed Eduljee and Farrokh Namdaran - secured the present premises we have for our Darbe Mehr in Burnaby, British Columbia, on November 30, 1985. This was purchased through the fund donated by Arbab Rustam Guiv through his dear wife, Morvarid Khanum, who was invited to the official opening of the Darbe Mehr on March 26, 1986.
On October 14, 1989, the Zarathushti community was in a state of shock when they heard the news of Jamshed Pavri's quick death. He was not ill, though he had suffered from a number of mild heart attacks, and met his end whilst waiting for a bus. He was not only well-known amongst the Zarathushtis of North America, but people all over the world mourned his death. He was a kind and gentle person, and was endowed with a good sense of humour. He had great wisdom and was extremely devoted to whatever work he undertook for the community - be it Zoroastrians, or others. Due to his devotion to humanitarian causes, the Zoroastrian Association of Houston decided to name the Humanitarian Service Award at the 7th North American Zoroastrian Congress as the Jamshed Pavri Humanitarian Award, and at the Eighth North American Zoroastrian Congress held in Vancouver, which I chaired, this honour was continued. On my being given this prestigious award at the Twelfth North American Zoroastrian Congress in Chicago Congress in 2002, I was overjoyed and emotionally stupefied, and said to myself: "Jamshed - I am bringing this home for you!".