An embodiment of enlightenment, courage and dedication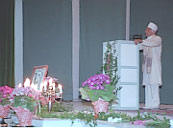 Late Mobedan-e-Moden Rostam Shahzadi delivering the keynote speech on Zarathushra's birthday, March 26, 1999
"Nov-Ruz is our heritage going back in millennia. It bears testimony to the positive outlook of ancient Zarathushtrian, and symbolizes the fact that they believed in living happily and righteously. Festivities were held at least once a month, and three of these were more prominent than the others. Nov-Ruz, at the beginning of the spring in the Northern hemisphere, Mehrgan in the first month of autumn and Sadeh in mid winter.
We, Iranians can claim inheritance to a national treasure based on the civilization of ancient Iran. It is the duty of each and every single Iranian regardless of their dialect and religious belief to collectively and unanimously help the land of our ancestors, the Motherland of Iran, to become progressive and to succeed in all aspects of its national existence. This is to make Iran strong, prestigious and respectable, as she deserves to be."
The above encouraging words, were delivered by Mobedan-e-Mobed Rostam Shahzadi, on Nov-Ruz of 1369YZ (3738 Zarathushtrian, 2000 A.C.) to the community several days prior to his death.
Mobed Rostam was not simply a mobed for the Iranian Zarathushtrian community; he was a recognized national figure, a man who helped the Zarathushtrians in social, cultural and religious matters. He encouraged people to use their innate "Good Minds" and utilize this unlimited creative power to resolve problems and issues.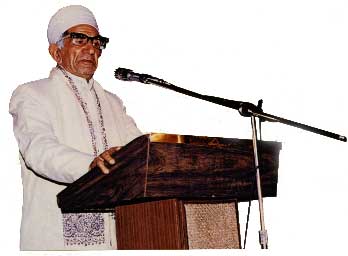 Rostam Shahzadi delivering a speech two years before his demise..
His presence in any gathering was memorable. Many Zarathushtis recall some significant events in their lives involving Rostam Shahzadi. Young and old couples who started their married lives benefited with "Good Words" of wisdomfrom Mobed Rostam. People got solutions to their marital or other problems by seeking his guidance. All this indicates that the well celebrated Mobedan-e-Mobed Iran of the 1990 decade led a productive life of dedication and service.
Mobed Rostam was born in a devout Zartoshty family in 1281 YZ, in Yazd, Iran. His father, Mobed Dinyar was himself a respected man, who served his community by executing priestly duties. Mobed Rostam completed his elementary studies at Dynyari Zartoshty School for boys in Yazd and went on to Tehran to undertake and complete his high school at the famed Alborz high school for boys which was run by an American organization.
Rostam and his classmate Firooz Azargoshasb were offered scholarships by the "Kankash-e-Mobedan of Yazd" (Council of Mobeds) to study with the renowned Gathic scholar Dr. Iraj Taraporwala in Mumbai, India.
The young Mobed Rostam spent seven years in India studying the Gathas, understanding religious practices and became conversant in the Avestan, Pahlavi and Pazand languages. Upon completion of his schooling, Rustom was granted the honor of "High Mobed." Upon graduation, he left India for his beloved homeland and served two years of the mandatory national service as a military conscript. His familiarity with the English language and the knowledge of the law made him a great asset to the Iranian army where he served for two years. His exceptional service earned him a promotion to the rank of lieutenant before his term of duty was over.
For two years, Mobed Rostam taught religious courses along with English, History and Geography to young students at Markar high school in Yazd. At the same time he helped the "Kankash e Mobedan e Yazd" in religious matters. All along he kept active in delivering public lectures and providing information on matters relating to the Zarathushtrian religion. His contribution in spreading the Gathic message was very noteworthy, and he proved to be a great asset to the Zartoshty community of Yazd.
In 1315 YZ, Mobed Rostam, by then married and having had his first child, moved with his family to Tehran, in response to an invitation from the Zarathushtrian Association of Tehran. Three years later, in 1328 Mobed Rostam graduated from the College of Law of Tehran University which furthered his abilities to serve his nation and the Zarathushtrian community of Iran.
His services to the community as one of the senior Zarathushtrian priests of Tehran, included teaching religion classes at Zarathushtrian high schools to the youth, managing the co-ordination of the library of the late Ardeshir Yeganegi and teaching English language at Tehran high schools. He also delivered hundreds of lectures at national, cultural, historical and religious ceremonies as a member of the "Kankash e Mobedan e Tehran", representing the Zarathushtrian community at the Royal court at Nov-Ruz receptions. After the Islamic revolution in Iran, Mobed Shahzadi represented the community at the Majlis Khobrakhan, which was set up to rule on various national agenda. When the issue of changing the colors of the national flag was raised, a passionate speech from Mobed Shahzadi saved the day for Iranian national pride, and the colors were left unchanged.
Mobed Rostam's role in educating people on the Gathic vision was noteworthy, and he took it upon himself to respond to thousands of enquiries from all peopleinterested in Zarathushtra's message and other religious matters. He authored hundreds of articles that were published in various journals during his life.
Another essential service that Mobed Rostam provided was that of being the chief marital counselor for the Zarathushtrian community. This was particularly significant as Mobed Rostam had studied Law, and his knowledge and experience proved invaluable to untold number of young couples who sought his advice.
Mobed Shahzadi played a critical role as a member of the first "Khobregan" assembly after the Islamic revolution in Iran, where he defended the rights of not only Zarathushtrians but of all the religious minorities of Iran. His dedication and courage in effect made him the single representative of all the minorities in that Islamic constitutionsal body.
Mobed Rostam was a selfless dedicated person who made many short and long trips, trying to help his people to understand their proud heritage and honorable religion. Many non-Zarathushtrians who wanted to know more about the rich heritage of their ancestors would seek his insights on historical, culturaland religious matters.
Mobed Rostam in his fruitful life participated in many national and international congresses around the world. Amongst his writings one can find:
"The Vision of Zarathushtra," published in 1357 YZ

"The Translation of Gathas," in 1367

A Look into the Gathas

"Zarathushtrianism is Monothestic" in 1354

An Analysis of Zarathushtra's Teaching by Tahmoras Sethna, 1344

"A Look into Marriage Laws in Ancient Iran" by Jamshid Kavoos Katrak, 1332

"The Alphabet of the Avesta" (A book on Avestan Language and Farsi Pronunciations)

"The Civil Code of Zarathushtrians of Sassanin era," 1355. This article was based on his thesis to satisfay the requirements of his graduation from the University of Tehran, School of Law.

"Passages from the Avesta for the Young Zarathushtrians," 1337

"The Avestan prayers for the departed with commentaties in Farsi," 1319

Series of Religious Booklets for education of young adults

"Zarathushtra and his Teachings"

"Translation of the work of the late Dastur Manekji Dhala on Understanding God from a Zarathushtrian Perspective"

"The Literature of Pahlavi, Pazand and Faris Dari"
Mobed Rostam lived a fruitful life of 88 years. Upon his demise, several scholars and other prominent Iranians spoke about his distinguished life of service and dedication to his community and nation.
The words spoken by Dr. Hussain Vahidi were typical.
"I have known Mobed Rostam for many years, and have come to the conclusion that he is a true, righteous man, a man whose character description has been sketched in the Gathas of Zarathushtra, a man who had a deep knowledge of Zarathusthtra's vision. Overall he possessed a great vision, and in a few words was a man of the Gathas. Mobed Rostam had no prejudices and knew Zarathushtra by time and in time. I got to know Mobed Rostam when I was a student at the College of Law and needed to get some information about the Zartoshti religion. He helped me graciously and shared all his books with me."
Dr. Muhammad Ali Islami Nedooshan writes "I only saw him once, but I had heard about him. I have read his translation of the Gathas which I found very valuable".
The well recognized mathematician, Ostad Parviz Shahriari wrote "I knew Mobed Rostam since I met him in the Zarathushtrian Anjuman of Tehran many years ago. He was very clear and spoke very eloquently leaving no ambiguity on any topic. He shared with kindness whatever was in his heart".
Dr. Khosro Dabestani, the representative of the Zarathushtrian community in the parliament of the Islamic republic of Iran in 1999, wrote "Mobed Rostam was a great personality of the Zarathushtrian community of Iran. I met him for the first time at Kankash-e-Yeganegi. What was impressive about him through to the last days of his life was his dedication to educating our society and informing us all about our proud and profound heritage."
Professor Farhang Mehr indicates the late Mobed was versed in Avestan languages with scholarly knowledge of the Gathas and mastery of comparative religions. "As such he was well qualified to communicate and disseminate the teachings of Zarathushtra. Mobed Shahzadi was progressive and visionary. I recall his enthusiasm in teaching Zarathushtrianism to the self-converted groups in Abadan, Khuzastan, and his earnest desire to travel to Klanaghan, Iraq to teach Avesta to Yazidis (Kurdish group) at their request.
As a mobed he championed the people's right to freedom of choice for their religion, and was willing to spend as much time as needed to answer their religious enquiries. He truly practiced what he preached.
His services to Iran and the Zarathushtrian community were invaluable. He represented the Zarathushtrian community in the "Majlis-e-Khobragan" that was charted with adapting the constitutional laws of Iran. During a debate on the colors and insignia of the national flag, despite the prevailing fanaticism, Mobed Shahzadi succeeded in persuading the Majlis to retain the traditional three colors of green, white, and red but failed to save the insignia of lion and sun. Mobed Shahzadi was a noble Iranian Zarathushti who left a rich legacy for future generations."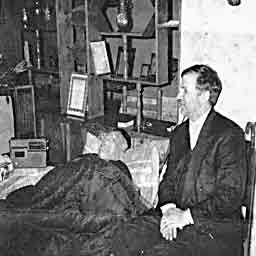 Iranian minister of education, Mohajerani, rushed to visit Rostam Shahzadi hearing of his illness few days before Mobedan-e-Mobed passed away.
His knowledge and enlightenment won him respect from many who met him. Dr. Mahmud Rouh-ul-Amini, professor of anthropology at Tehran University once related his experience of taking his class on a field trip to the Zarathushtrian Anjuman complex in Tehran. After the tour of the complex, the students sat down with Mobed Shahzadi, and were so taken by Mobed's knowledge, and foresight, that they lost truck time. Mobed Shahzadi left a lasting impression on them.
The last testimonial to a life well lived comes from the late Mobed Rostam's oldest child Mehrangiz Shahzadi. She could best describe her father as a true human being with a deep passion for helping others regardless of their religious belief, race or gender. He valued humanity irrespective of man made barriers, and there was a special place in his heart for Iran, the birth place of "Good Thoughts, Good words, Good Deeds".
May the example set by his life of service and enlightenment inspire others, and may he be blessed in the Abode of Songs.