In the celestial galaxy of Indian politicians Sir Pherozshah Merwanjee Mehta, K.C.I.E., M.A., LL.D., Bar-at-Law, held the exalted station of Helios, the omnipotent orb of fire, round which revolved the constellations-his contemporaries.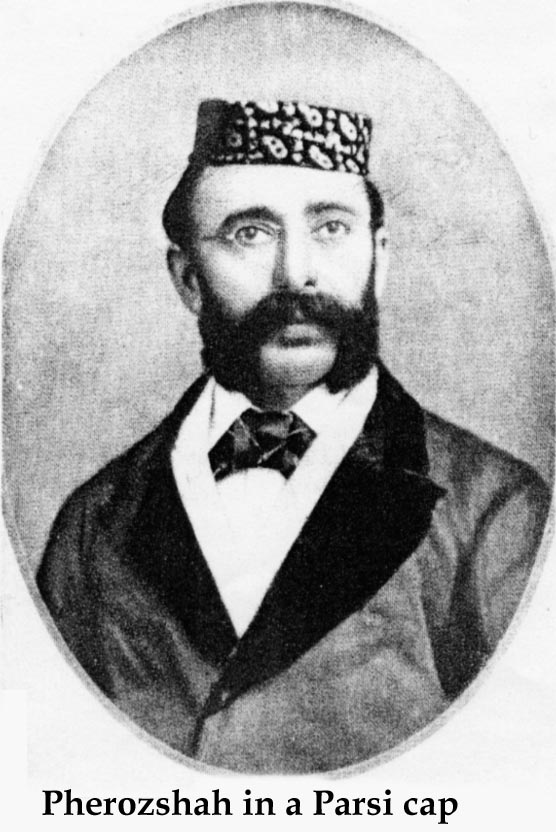 Born in Mumbai on 4th August 1845 with the proverbial silver spoon in his mouth; liberal education was his for the asking. Graduating from the Elphinstone College in 1864 he passed the M.A. examination, with honors, six months later, being the first Parsi to have obtained a Master's degree. Having attained the acme of academic distinction in our country he proceeded to England in order to specialize in Law. The exhilarating and ennobling atmosphere of English 'Versity life had a stimulating influence upon his formative mind. He attended meetings of the London Indian Society and the East India Association and there formed lasting friendships with half-a-dozen students who later rose to positions of pre-eminence-J.N. Tata, Mun Mohan Ghosh, Budruddin Tyabjee, W.C. Bonnerjee, Hormasjee Wadia and Jamsetjee Cama. But the most inspiring contact of all was with his political "guru" Dadabhai Naoroji.
In the course of his multifarious activities Pherozshah delivered an exceedingly informative and thought-provoking address on "The Educational System of Mumbai" before the members of the East India Association. On being called to the Bar in 1868 Mehta returned to India and found to his utter chagrin that the legal profession was the exclusive preserve of a handful of formidable British barristers. But, an intrepid spirit such as Pherozshah's could not hibernate in the wilderness indefinitely. With his forensic ability and able advocacy he forged ahead and soon was in the forefront of Mumbai's legal luminaries. His fame at the local Law Courts spread further afield and briefs poured in from all parts of Gujarat and Kathiawar, like a perpetual stream of 'milk and honey'.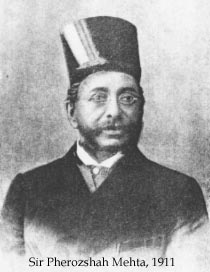 Pherozshah's Municipal career commenced in the early seventies of the 19th century under circumstances which could hardly be regarded as auspicious. Completely overlooking the innumerable benefits that had accrued from the Crawford administration, the citizens of Mumbai trooped into the Framji Cowasji Hall one fine day and heard speaker after speaker denounce the Commissioner for recklessly squandering away Municipal funds. This uproar turned out to be a blessing in disguise for India's enfant terrible. Mehta's spirited defense of Mr. Arthur Crawford vindicated that great public servant's honor and his eloquent plea for municipal reform was later embodied in the Act of 1872. When this enactment was later amended Mehta was again the prime sponsor. The public with one voice hailed this ratified Municipal Act of 1888 as a Magna Carta of their civic rights. By this Act Pherozshah established the Corporation as "the ultimate tribunal whose decision must be final and binding" in all matters relating to the internal administration of the City. Thus, he became the father of Mumbai's Municipal Charter, founder of its glorious civic traditions and the Corporation's trusted guide and mentor. The 'City Fathers' had implicit faith in his prudent leadership and elected him president on no fewer than four occasions- 1884, 1885, 1905 and 1911 - an achievement unique in the annals of this august body. What Joseph Charnberlain was to Birmingham, Pherozshah Mehta was to Mumbai. To his untiring efforts and inspiring guidance Mumbai is indebted for its position as the Urbs Prima in India.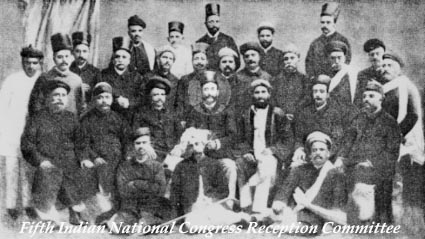 Despite these preoccupations he was not indifferent to problems of national importance. The Viceroyalty of Lord Lytton was notorious for its many short-sighted policies and acts of recrimination. But of them all, the most reprehensible was unquestionably the Vernacular Press Act. Pherozshah could not tolerate this blatant encroachment upon the Freedom of the Press and categorically protested against this repressive reactionary measure.
There cannot be a shadow of doubt as regards his political affinity. He was out and out a "moderate" with pronounced liberal leanings. In 1885 the Mumbai Presidency Association came into being. Mehta was the President of this socio-political Organization right from its inception to the day of his death. A founder of the Indian National Congress, Pherozshah was its driving force for well-nigh four decades. In 1890 he presided over the sixth session at Calcutta and was Chairman of the Congress Reception Committee fifteen years later.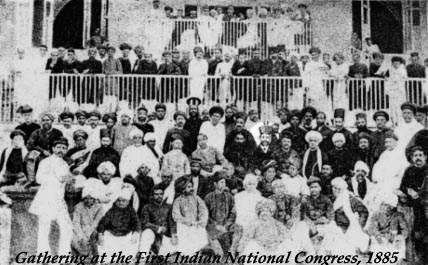 Pherozshah Mehta was nominated to the Mumbai Legislative Council in 1887 and elected to the Imperial Council by the Mumbai Legislature in 1893. His fiery orations spiced with caustic comments and biting sarcasm at all times commanded respect and undivided attention from friend and foe alike. In the Councils he was, for all practical purposes, the 'Leader of the Opposition'. But endowed though he was with burning eloquence and vital force he never abused his gifts to embarrass the Government. This evoked from Lord Willingdon the remarks: "a strong and resourceful opponent if he thought we were wrong, a warm and loyal supporter if he thought we were right, a fearless critic in his public life".. So great was his hold on the House that a roar from this Lion of debate or a sparkle in his fiery eyes was enough to deplete the ranks of his opponents.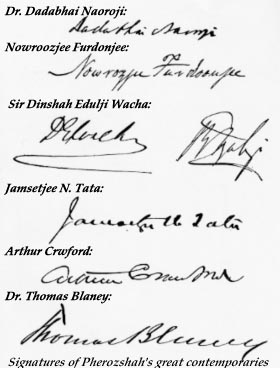 During his gubernatorial regime, Lord Willingdon leaned heavily on Sir Pherozshah's sage and sober counsels and by appointing him Vice Chancellor entrusted him with the task of running the University of Mumbai, whose brightest alumnus he had been for four decades.
A genuine Swadeshite, Sir Pherozshah Mehta firmly believed that great as the contribution of politics and education had been, greater still would be the part commerce and industry had to play in the emancipation of our motherland. The present lofty position of the Central Bank of India is in no small measure due to the infinite care with which he nurtured this tender sapling and saw it grow into a mighty oak. One of his last acts of public service was the establishment of an English daily, The Mumbai Chronicle, which, like the Bank he had founded, was entirely staffed, managed, and owned by Indians.
Having attained the allotted span of three score years and ten he breathed his last on 5th November 1915. The whole country was shocked to hear of the sad news. Men who had occasion to cross swords in debate with the doughty warrior were the first "to weep the loss of India's greatest patriot". At a condolence meeting in Mumbai it was resolved to raise a fund to perpetuate his memory. The sum collected was mainly utilized in erecting an imposing statue which fittingly stands before his monumental creation - the Mumbai Municipal Corporation. On its pedestal is engraved Lord Hardinge's memorable epitaph: "A great Parsi, a great citizen, a great patriot and a great Indian".
The picturesque Hanging Gardens atop Malabar Hill and a main thoroughfare, which happens to be the commercial hub of Mumbai, have both been named after him.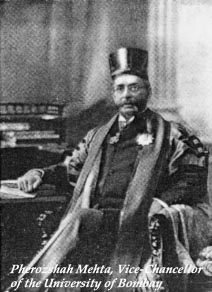 In vastness of vision and profoundness of intellect Sir Pherozshah remains unsurpassed. His uncanny judgment, inflexible resolve, boundless energy and magnetic personality brought him nation-wide recognition in his own time and legendary fame on his passing away into the 'Great Beyond'.