Fire Temple of Surakhany in Baku, capital of Azerbaijan republic; Sanctuary view from entry gate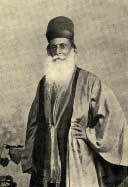 Dasturji Khurshedji Rustomji Cama
Response to Terrorism: A Zarathushtrian Perspective
McIntyre, Dina G.
A perspective aimed at redressing this peril of the human society as well as justification for immediate response to its occurrences is presented.
Zarathushtrian Theodicy
Bailey, Albert
Why evil exists in a world governed by a good, wise, and powerful god. Over the centuries Persian thought has addressed this question more thoroughly than any other religious tradition.
Transcendence
Shahriari, Shahriar
In this thought provoking article, Shahriari gives a unique Zarathushtrian perspective that can help one reach great heights in life.