The sunrise on Novruz indicated the start of the new year in the Persian Empire
Persepolis, the seat of the Achaemenian kings, is a vast palace located near Shiraz in the Fars province of Iran. The Persian Empire was founded by Cyrus in about 550 BCE. The empire of Cyrus and his descendents spanned from the borders of Greece to China, and from Asia Minor to Egypt, and lasted for over 200 years till 330 BCE. Darius the Great started the construction of Persepolis and his son Xerxes continued and finished the palace. Every Achaemenian king, following the tradition of Darius, added to this magnificent complex of palaces.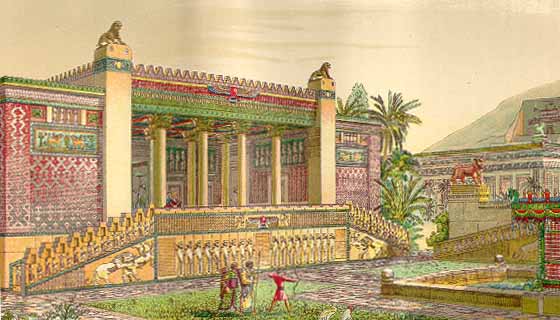 Persepolis was built at the foot of a mountain now called Rahmat, which was known throughout Iranian history as Kuh-e Mehr or Komehr . The Iranian astronomer, Yahya Zokka, discovered that about 487 BCE all the Iranian calendars merged into a single beginning year. The so-called milestone was the Novruz celebration of 487 BCE at the height of the reign of Darius the Great. Darius built a vast road system and established a land tax collection plan throughout his empire. He established Novruz 487 BCE as the beginning of a new annual cycle for his empire.

Zokka discovered that on the same year on the day of Novruz, the first rays of the sun rising above Komehr illuminated a square stone set in the central hall of Persepolis. The square rock could not be used for any other purpose, only to mark the rise of the Novruz Sun in the palace. The main hall was used for large formal gatherings. Tablets found in the palace also mention the great festival celebrated about 487 BCE in the palace. Zokka concludes that from 487 BCE onward, the Achaemenian kings celebrated the advent of the Novruz sunrise in the main hall of Persepolis.

Images carved on Persepolis rocks and reliefs symbolize the seasonal change. The image of a lion dominating a bull can be seen in several places in entry ways and step carvings. The lion symbolized spring and the bull symbolized winter for ancient Iranians. The dominance of the lion over the bull symbolized the arrival of spring in the empire.
A feast for your eyes...Click here to start