"You give some when you give of your earthly possessions, The real giving is when you give of yourself."
Every now and then a community is blessed by with rare individuals of great vision, strong sense of purpose and total devotion. They take upon themselves to serve their community and country with full dedication while surmounting and overcoming the roadblocks and challenges they encounter. It usually takes awhile before the community at large comes to the realization of the continuous sacrifices such individuals are making and appreciate their great deeds. At that point the community turns to them and taps them for more of the good they are able to spread. They are trusted into advisory positions, or as trustee of foundations, and viewed as people to aspire to. For the 20th century Zoroastrian community of the Yazd and its surrounding villages, Mr. Soroush Lohrasb was such a personality.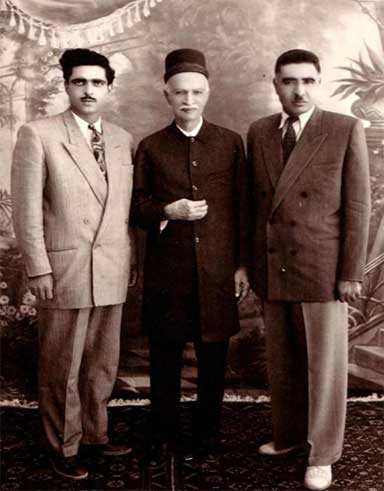 R-L: Mirza Soroush Lohrasb, Peshotan Markar, Dr. Ra'ees Bahrami, 1949. Photo courtesy of www.oshihan.org
Soroush was born into a loving and caring family of seven in Jamshid Abad baug district of Tehran in 1274 YZ (1906 C.E.). His father Tirandaz and his mother Gouhar were both exemplary parents who gave their offspring all the love and devotion they could muster, at the same as trusting them with family responsibilities and encouraging them to excel at school.
Soroush completed his primary school and proceeded to Alborz College in Tehran for completion of his secondary education. Even at such a young age, Soroush recognizing the acute needs of his community at a very critical conjecture in the history of the community, made a conscious decision to forgo pursuing university education and to offer his invaluable services to his community. This also meant separation from his close friends including Dr. Jahanshah Saleh[2] and Dr. Faridoon Varjavand[3] who proceeded to the American University in Beirut for continuation of higher education.
As it happened, it was about this time that the Zoroastrian community leadership was searching for a capable educator to manage the Dinyari school in Yazd, which was without a principle since the retirement of its previous two headmasters Mirza Sohrab Safrang and Mirza Kaikosrov Kiamanesh. On the recommendation of Arbab Keikhosrow Sharokh[4] (Zoroastrian Member of Iranian Parliament in Tehran), Soroush accepted to serve as the temporary acting head of the school and moved from Tehran to Yazd to undertake this responsibility. This was the first step that launched him on his golden career as a community educator and a social worker. Before long, he was confirmed into the permanent post of the Headmaster for the Dinyarian School, thus the title of "Mirza Soroush".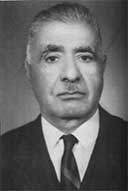 Mirza Soroush Lohrasb, 1965
Soon afterwards his competence showcased to the community, he was asked to undertake the task of overseeing the work of 14 Zoroastrian girls schools that had been established in the city of Yazd and its surrounding villages. Those schools were instrumental in giving the Zoroastrian youth of Iran the lift they needed at that critical conjecture in history of Zoroastrians of Iran, as the community was making a comeback.[5] The establishment of the schools were made possible through the foresight of the Late Manckji Limji Hatiaria who had come to Iran from India on a golden mission of uplifting his coreligionists in Iran that had for so long been suppressed by the Shiiat establishment and were teetering on the verge of annihilation.[6] It was mostly the Irannian Zoroastrian Community of Bombay that had financed building of the14 schools.
With passage of each day, Miza Soroush gained a deeper insight into the needs and ills of the Zoroastrain community in Yazd and surrounding villages. In the meantime, his enthusiasm, energy and hard work did not go unnoticed. He was a man who could be trusted to get the job done, and had a thirst for community work. These qualities brought him to the attention of the renowned Parsi philanthropist, the Late Pashotanji Markar (Marker).[7] Peshotanji Maker recognizing the desperate needs of the remaining Zoroastrians of Iran – a recognition gained through his earlier travels to Iran - established a number of charitable funds, and requested Mirza Soroush not only to manage the funds, but also to spend the direct the spending wherever he left was most needed. With the relative large funds at his disposal, Mirza Soroush was in a position to turn some of his dreams into reality. It was at this point that he decided to relinquish the management of the Dinyari School, which was passed on to the Late Mirza Shahriyar.
Directing Marker funds, Mirza Soroush purchased a vast piece land in a desirable area of the city of Yazd with a view to its future potential. Soon afterwards, the construction of the Markar School was started in high gear. Mirza Soroush was soon in a position to deliver high quality of education which he aspired to, that could best meet the needs of the Zoroastrian community and the nation. The quality of education delivered at Markar School became legendary, and produced many high achiever professionals and technocrats for Iran and throughout the world. If anything, Soroush showcased how schoolwork can be made appealing and rewarding, and how the energy, interest and enthusiasm of young generation can be funnelled to constructive ends.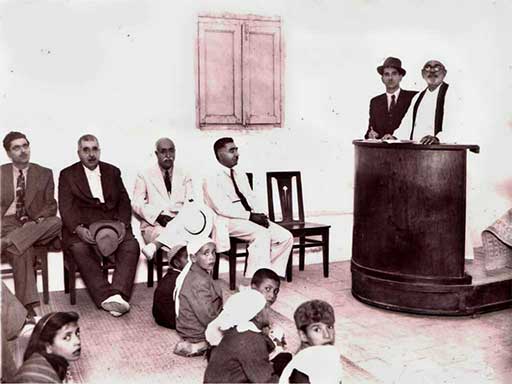 Datur Kutar's Speech, Yazd 1965. From R-L: Dastur Kutar, Mobed Rostam Shahzadi, Mirza Soroush Lohrasb, Arbab Sohrab Kianian, Mobed Bahram Zartoshty, Dr. Ra'ees Bahrami.
Like any other society, the Zoroastrian community Yazd had its share of financially disadvantaged members and orphans. If anything, the acts of persecution and discrimination prevalent during the preceding Qajar period had exasperated the problem. To alleviate some of these difficulties facing the Zoroastrian Community, Mirza Soroush decided to build a dormitories within the Marker compound to house the disadvantaged children to bring about some degree of equality of opportunity for all. He was also keen that the pupils should learn and master a number of vocational skills such as carpentry, mechanical tools, construction, etc.
Mirza Soroush visited Bombay, India on numerous occasions. It was on one of the early visits that he met Parvin, his partner in life. This happy marriage has resulted in three daughters, Shahnaz, Shirin and Farkhondeh and a son Shahbahram.[8] It was a caring and close knit family and Mirza Soroush enjoyed the unequivocal support of his family at all times.
Mirza Soroush had no interest in bureaucratic positions. Accumulation of wealth or status did not entice him. Driving him was the desire to enhance his community, and to serve its cause, and nothing would distract him from that goal. The only non-educational assignment he undertook on a temporary basis, was the managing director of the Darakhshan manufacturing operation in Yazd, based on continuous requests he received from the Zoroastrians share holders. Due to labour unrest, the previous management had fled the factory and would not be allowed on premises by the protesting workers who had taken over. The condition was getting out of hand, and none of the owners felt safe to enter the premises. Finally Mirza Soroush, gave in to the request of the owners, and one day ridding his bicycle, he entered the factory premises and cycled towards the manager's office that was unoccupied. The protesting labourers not knowing what was transpiring congregated on the manager's office in threatening manner. Mirza Soroush realizing the gravity of the moment comes out, and tells the angry crowd he is not an owner, or a paid official, and that he will leave if the workers' mode and behaviour does not change. He goes on to say, that stalemate is not helping anyone, and it is best to reach a compromise. Through his calm and sincerity, Mirza Soroush was able to accomplish what no previous intermediaries had been able to accomplish, namely to gain the trust and confidence of the workers. Subsequently, the workers and the management went back to successful negotiations, and with that successful conclusion, Mirza Soroush was able to resume his other community work.
As a sign of gratitude for Pashotanji Markar's great acts of philanthropy in Iran that had enabled construction of schools, orphanage, community facilities, Mirza Soroush decided to build a clock tower on one of major throughways in Yazd on the road to Kerman in memory of that great man,. To this day, the "Markar Clock Tower" of Yazd stands. The Clock Tower is situated right outside Markarabad, and Mirza Soroush had to negotiate with the Yazd municipality to bring about the erection of the clock tower – not an easy undertaking for a Zoroastrian individual at the time. However, given his charm, charisma, strong personality, fame and the untold number of grateful former students, the Yazd municipality had to relent. Today, this clock tower stands at center of the Ferdowsi circle facing the Markarabad leading to Kerman Avenue. Its on-going hourly chimes are a reminder of great men, the late Pashotanji Markar and his most valued trustee, Mirza Soroush Lohrasp. Both are revered names in the heart of the Zoroastrians from Yazd.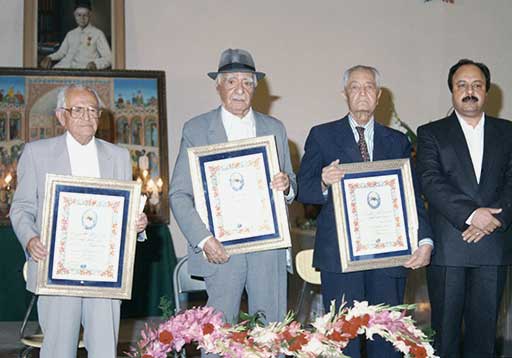 Receiving Lifetime Service Awards from Tehran Zarathushti Anjoman: (L-R): Fereidoon Zartoshty, Mirza Soroush Lohrasb, Ardeshir Jahanian, 1990.
Soon, Mirza Soroush recognized that, an increasing number of the Zoroastrian families were migrating to Tehran in pursuit of greater opportunities and for their children's higher education. He was determined that those ex-patriots Zartoshties from Yazd should have a reminder of Pashotanji Markar who had come to their aid during very critical times. To achieve that goal, Mirza Soroush sold some of the Markarabad land in Yazd, and used the proceeds for the building of a Markar community complex in Tehran Pars (Eastern suburb of Tehran). This multi-purpose community complex has been used by the Zoroastrians of Tehran and its suburbs for community events and religious functions.
Mirza Soroush passed away at the age of 91. His record of accomplishments is exemplary given the harsh conditions of the time. He was driven by a clear life long mission of serving his community, and bettering his country and mankind to the best of his ability. He stayed a humble and unassuming man throughout his life and he never shied away from taking on challenges to improving the education prospects of the lot. He was also a grateful man, on in the goodness of his heart did what he was trusted with, and made sure the good names of Pashotanji Markar and Manckji Limji Hatatia were remembered and acknowledged. Thousands of the boys and girls whom he educated are serving mankind throughout the world as medical doctors, engineers, lawyers, professors, chief executives, deans and university faculties, etc. Words can not express the dedication and the exceptional qualities of such an extraordinary Zartoshty who devoted his life to the education of the young and to the betterment of mankind. May his example inspire the rest of us.
---
[1] This article was written in Farsi by Mr. Jamshid Pishdadi for production on vohuman.org, and has been translated into English courtesy of Dr. Sohrab Saadat of the UK. The posting of this article on vohuman.org was completed on January 23, 2005. Some of the photos and text appear in the Farsi language book, Memorial of Mirza Soroush Lohrasb, authored by Jamshid Pishdadi, sponsored by Mobed Mehraban Zartoshty, and printed in Southern California in 1999.
[2] Dr. Jahanshah Saleh later became the minister of Health during the reign of Mohamed Reza Shah Pahlavi and also served as dean of Tehran University school of medicine
[3] Dr. Faridoon Varjavand, a prominent Zoroastrian physician, established one of the first modern maternity wards in Tehran. At that facility many of the Capital's younger generation of Zoroastrians as well as others were born.
[4] Keikhosrow Shahrokh
[5] Manekji Limji Hateria
[6] Seth Maneckji Limji Hataria
[7] Peshotanji Dossabhai Marker
[8] Mirza Soroush's son Shahbahram obtained his BSc and Ph.D. degrees in Engineering and has settled in Canada since the 1970s.